Easy-to-use Video Conferencing for Professionals.
Simplify scheduling with one personal link to host all your video meetings.
With Digital Document Signing, Meeting Recording, Call-In/Call-Out Participants by Phone, Integration with Automated Scheduling Calendars, and more!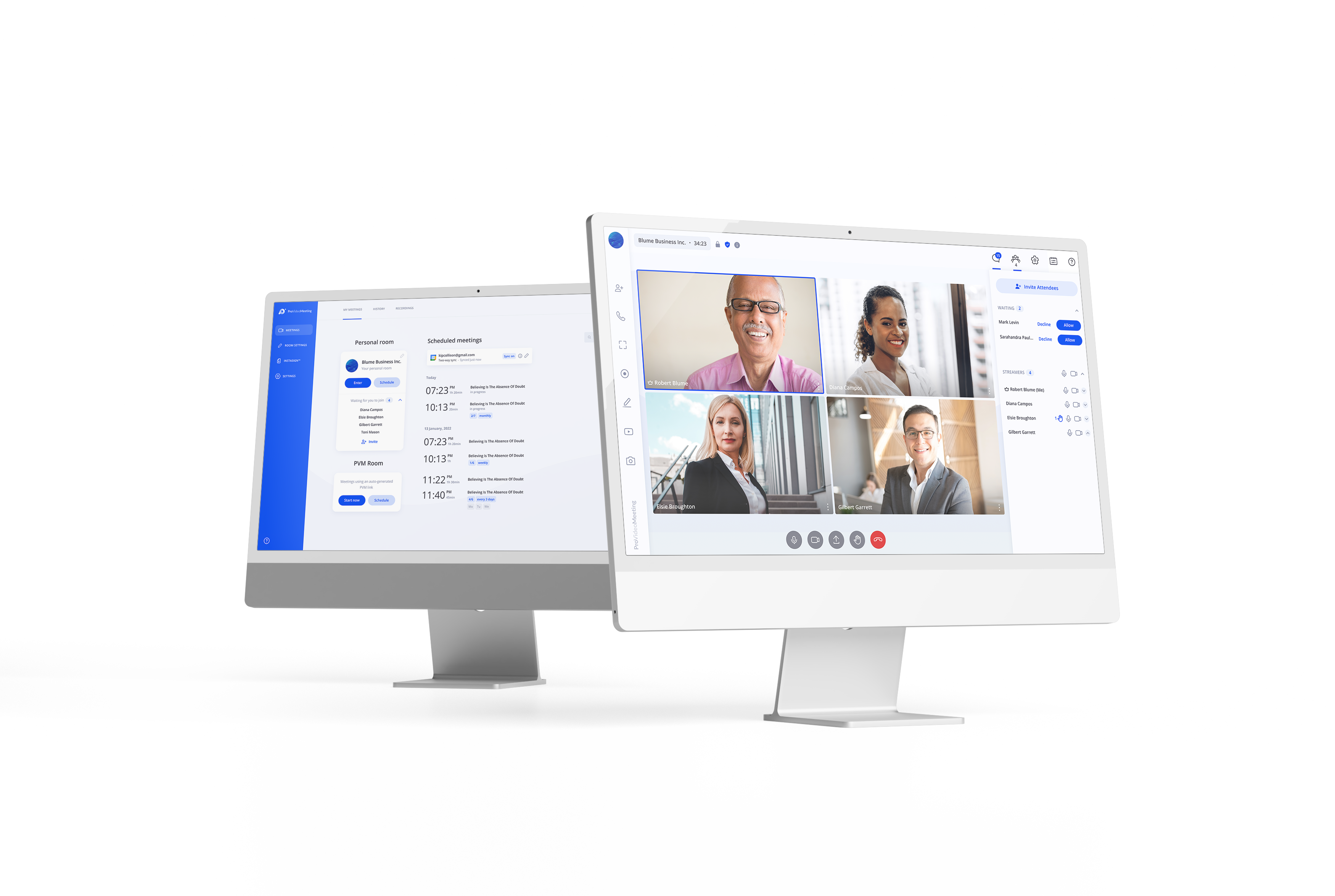 Tools That Make Virtual Meetings Easy and Efficient
ProVideoMeeting combines video conferencing, online meetings, screen sharing, document signing, and meeting scheduling to create an all-in-one, simple solution for busy entrepreneurs and service providers.
Get 20% off your first 6 months. Use code SAVE20NOW.
Make it easy for clients to meet with you. Set up your Personal Room and you'll have one personalized meeting link to use for every meeting.
No more need to create and send a new long garbled link for every meeting!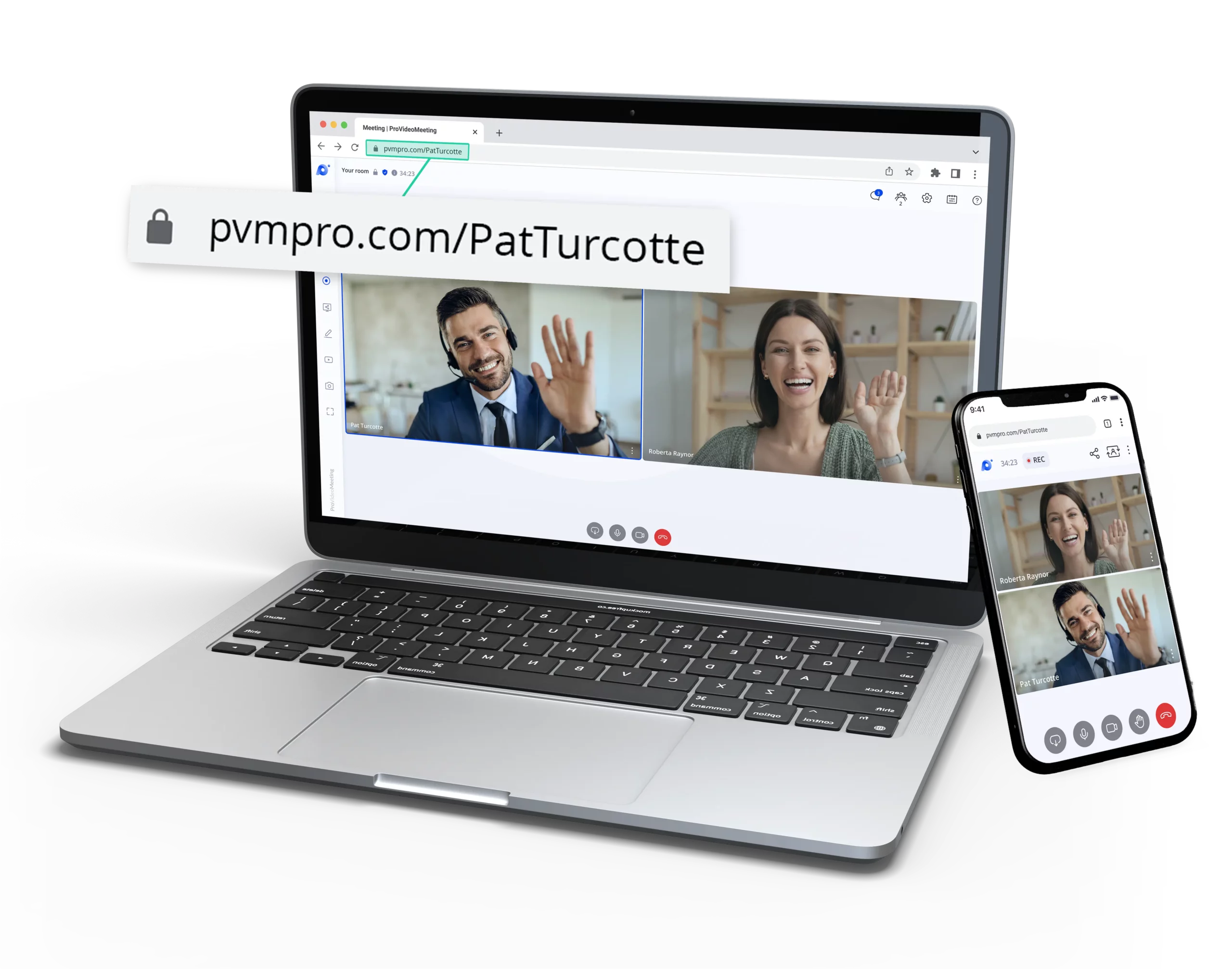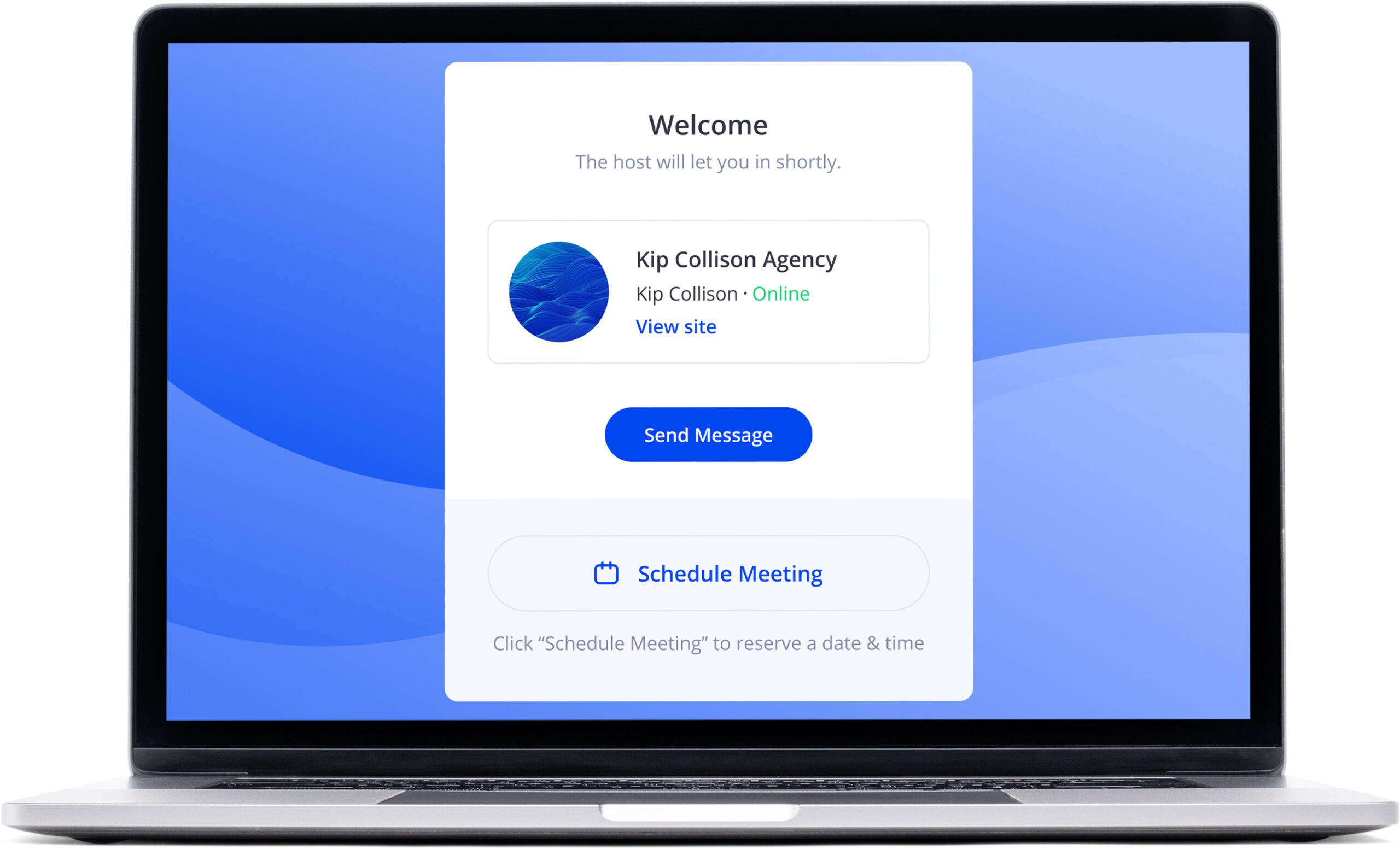 Previous meeting running late?
Not available when a client enters your Personal Room?
Your custom Waiting Room enables users to message you, visit your website, or schedule to meet at a convenient time for you both.
Communicate with guests as they wait to virtually meet with you.
Scheduling App Integrations
Connect ProVideoMeeting with your Calendly, Chili Piper, Google or Outlook Calendar to easily let attendees schedule a convenient time and add video meetings to your schedule.
Use your calendar to start or schedule virtual meetings with just a click.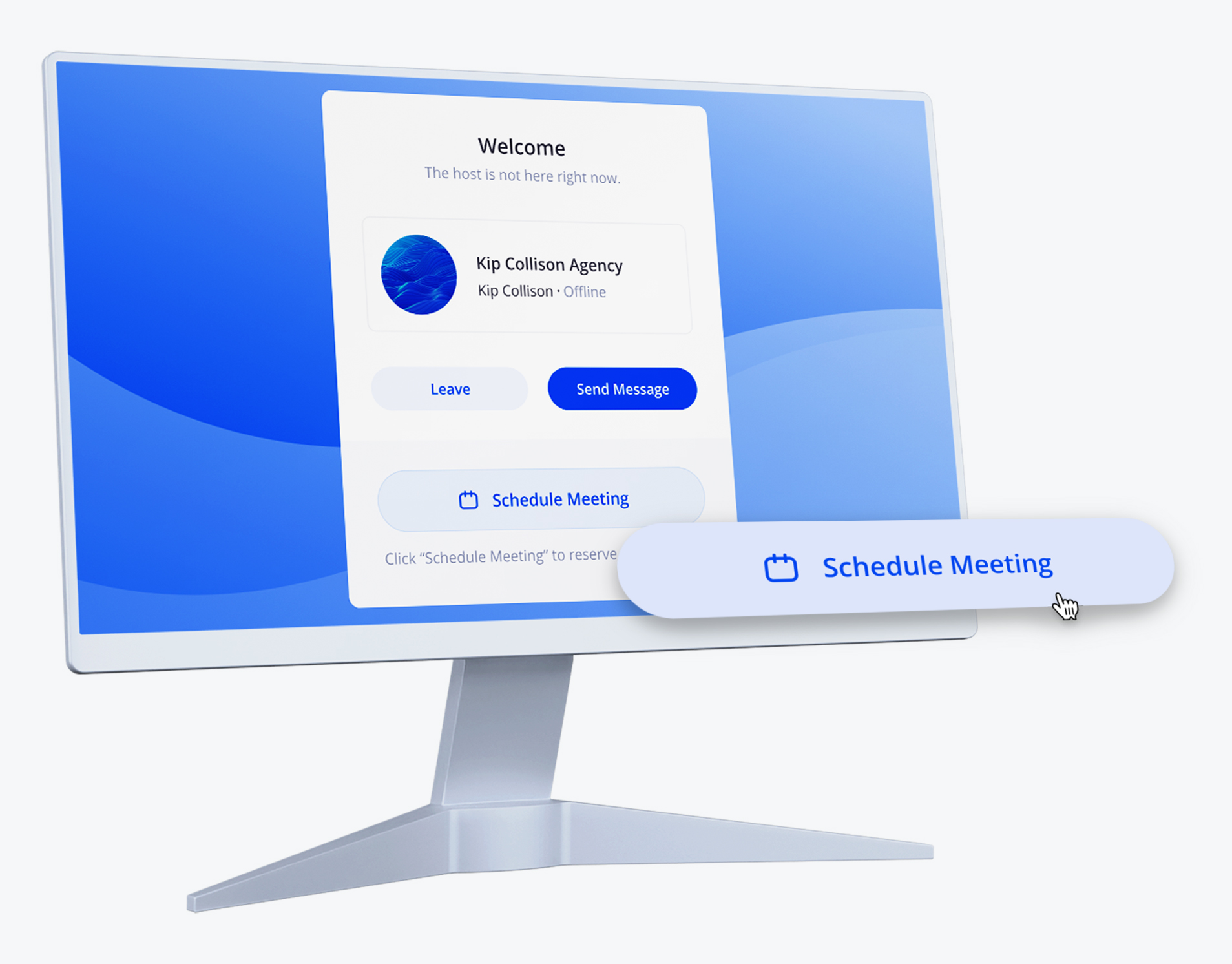 Electronic Document Signing
Execute agreements while virtually meeting with clients. Review, execute, and share documents with Instasign™, the first natively integrated document signing tool for video conferencing.
Answer questions, highlights sections, make changes (if necessary), and sign agreements without ever leaving your virtual meeting.
Invite attendees to your virtual meetings in advance or on the fly with ease and convenience.
ProVideoMeeting is the only platform where you can send invitations via text and call someone into your meeting with a simple phone call. Send invites via email too.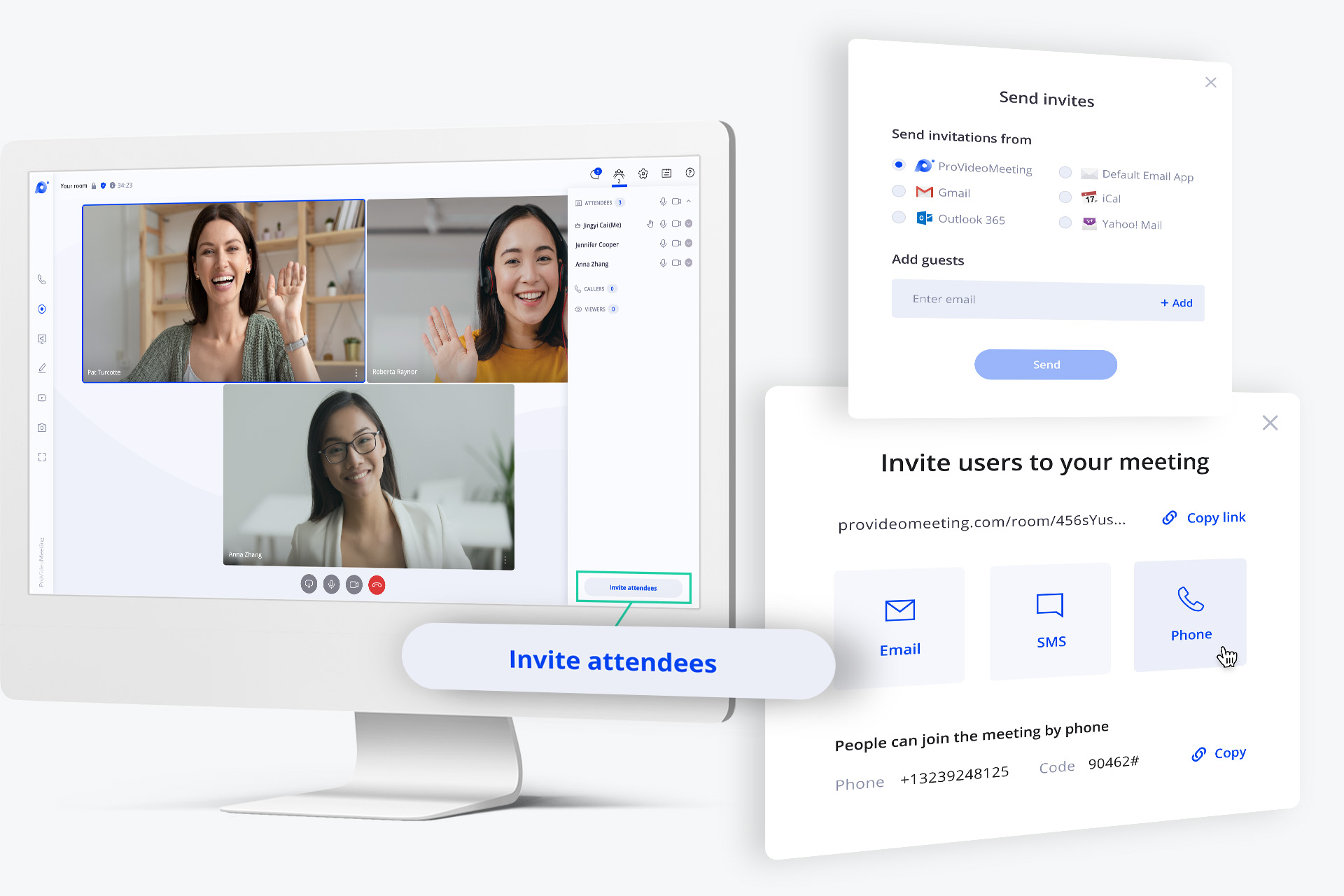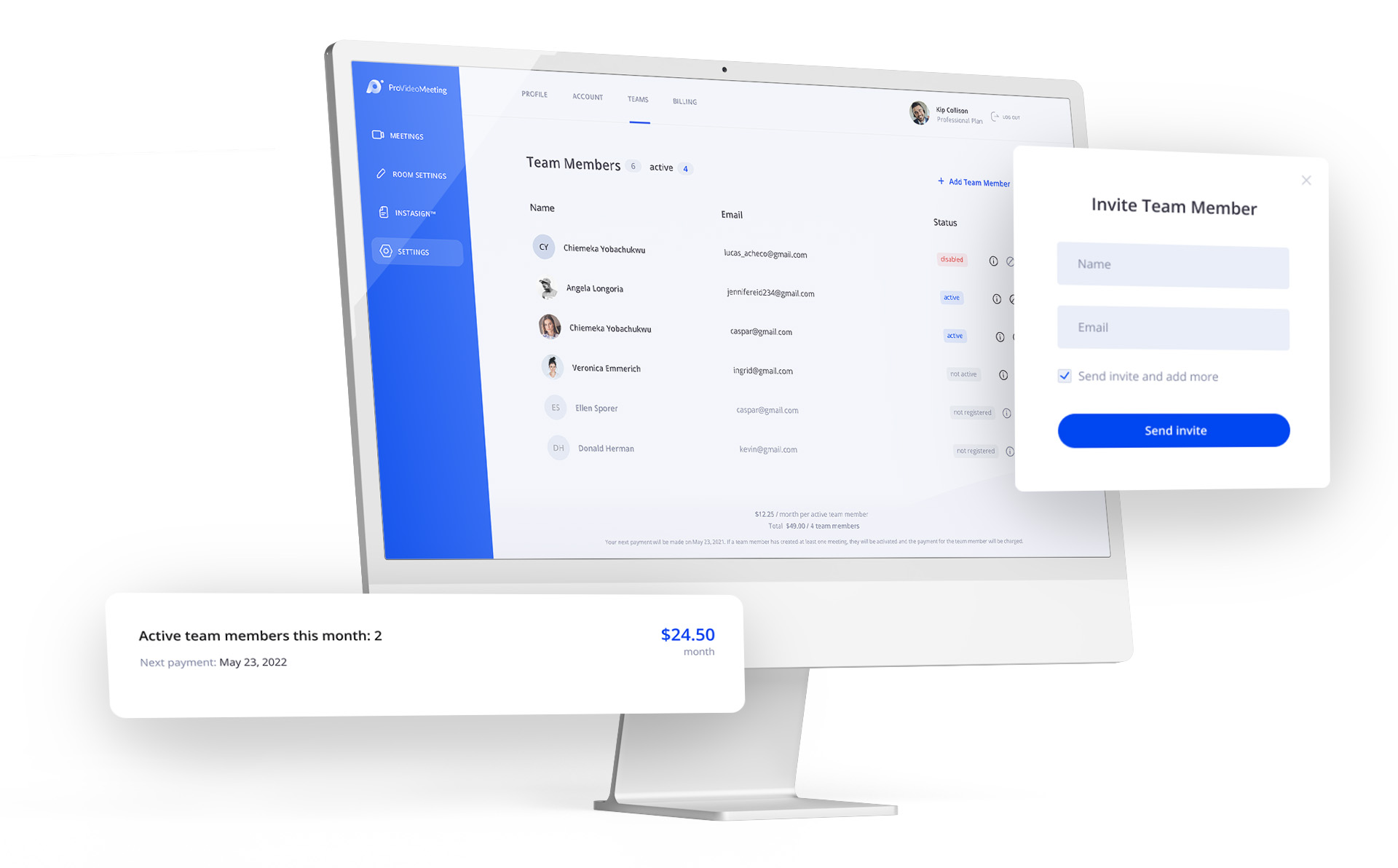 "Don't Use, Don't Pay"
for Teams
Invite your entire team to join your ProVideoMeeting account. You are only billed for those who host at least one meeting during any renewal cycle.
No longer pay for recurring video meeting licenses you don't use!
The Best Video Conferencing Features at Your Fingertips
Highest Level of Security
Built By Entrepreneurs for Entrepreneurs
and Trusted By Major Companies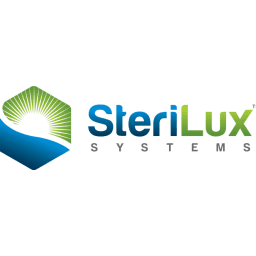 What Our Clients Are Saying
Reviewed several documents the other day. That attention tool was most helpful. My partners are saying just that tool alone has been a huge time saver for our practice. Thanks for showing us how it works!
Chase E.
Founder/CEO
I am really impressed with how easy it is to start and schedule meetings. I integrated my gmail calendar just the other day, now I setup all my client calls using PVM.
Mike S.
Notary
Just wanted to let you know that my clients are very happy with Pro Video Meeting. Signed an NDA just the other day during our call. Love it!
Samantha Klein
Director of Human Resources
We are very happy with provideomeeting.com. My staff was thrilled to have their own meeting url. Saves us time when the room link doesn't change.
William F. Holden
Operations Mgr
Can't say enough about how easy it is to use your software. The meeting room is simple and has all the features I need to quickly jump on and off calls. The feature I like most is the calling feature. When someone is running late, I call them into the room. Nicely done.
Denise N.
Regional Sales Manager
Get Started Hosting Virtual Meetings for Free!