Video conferencing systems are widely used by schools, the medical and health industries, organizations, and businesses. The past few years have completely transformed how we communicate and establish relationships, instilling within us habits we would have never adopted. As business owners, entrepreneurs, event planners, freelancers, etc., we're most likely used to navigating a technology-based world. And if you have never before, you've probably learned very quickly to utilize video conferencing systems and their tools for work.
Using video conferencing systems in order to establish a network of communication has been revolutionary. Now, we're able to connect with other people, organizations, and businesses within a global context. It's considered the norm to attend virtual meetings and events, giving access to people who had difficulties or could have never attended physical events before. Virtual events in particular are ways to communicate with others, establish connections and networks, and touch base with those within the industry. Creating and hosting virtual events are ways for your business to grow by making new opportunities for you to establish relationships with similar businesses, sponsors, and partners. But when you're hosting your own virtual event, there are a few things that you have to keep in mind.
We've compiled a short list of the five core elements that you should do when hosting your own virtual event.
1. Establish a communication network
The first thing that you should do is establish an easy-to-use and accessible communication network. This means things such as the way they receive information before the event and even how the event is promoted to them. Social media platforms like Linkedin are great ways to get the word out there about your virtual event. Create audience-driven content that promotes your event well by establishing the goals of the event and what your audience can gain by attending. Additionally, make event sign-up easy by linking the sign-up page to your promotional content. Make sure you follow up with your attendees by emailing them content and reminders as the date approaches as well as a link to the event.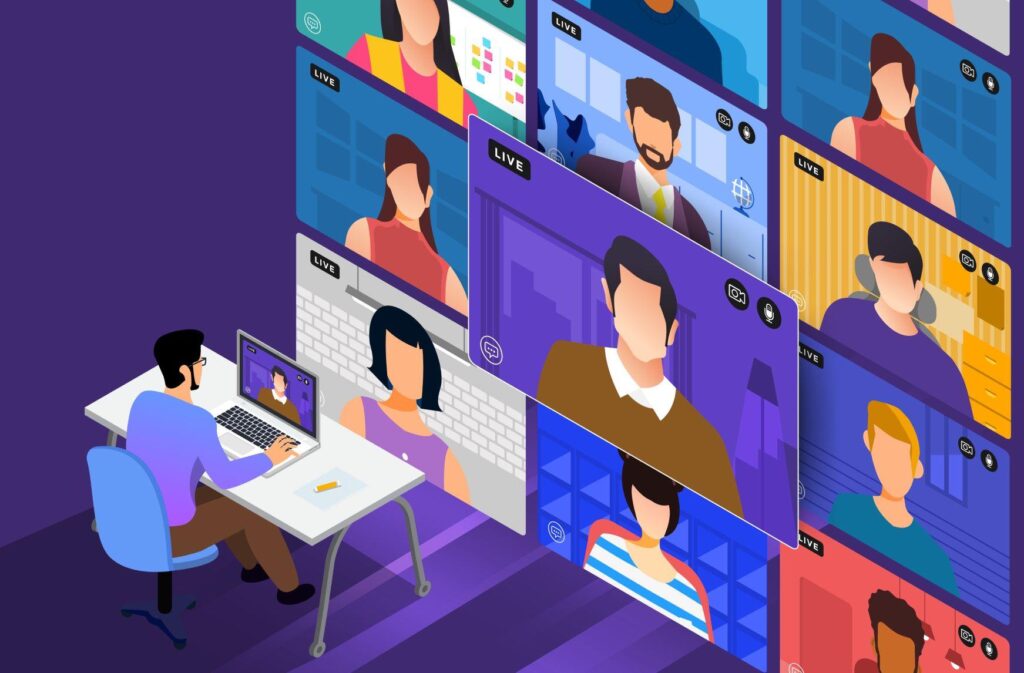 2. Consider the ways your audience will receive information
Taking into consideration the way your audience will receive information is important to how your event is run. During the promotion, be clear with your audience about the goals of the event, what they will gain by attending, and what will be discussed. This allows not only transparency but will also ensure your virtual event will reach your target audience. You want your event to be attended by people that are interested in your content and who you could possibly network with. Additionally, think about how you want your information to be received which brings us to our third point.
3. Define a structure and time schedule
Make sure your virtual event is structured by having an agenda and a time schedule that is distributed to your attendees. It's unfortunate but people often mentally or physically check out during virtual events. Avoid this by sending out an agenda with the duration of the event, an itinerary of what will occur, who is speaking, and activities that might occur during the event. When there is a structure established, people are more likely to be engaged and participate if needed by asking thoughtful questions. Having an agenda also allows the host and attendees to come prepared, ensuring that the event and related discussions are fruitful.
4. Think about ways to engage your audience
Similar to our fourth point, as a host you want to think about ways to engage your audience. This doesn't even need to be a creative activity. For example, if it's a networking event, make space in your agenda and itinerary to allow for multiple breakout rooms. This gets conversations going and people are able to establish new relationships and partnerships. Engaging your audience should be easy. Don't try to force activities that people aren't prepared for so make sure you stick to the agenda that was shared before the event.
5. Circulation of event content
When your virtual event is concluded, you want to impart information to your attendees which is the goal of an event. One thing that you can do is circulate the content that was presented and discussed during the event. For instance, if there was a PowerPoint, make sure to share the PowerPoint with the attendees in a concluding email after the event takes place. Additionally, you can even create a package of important information that was discussed during the event such as contact information, links to relevant websites and pages, and anything else that was presented during the event. The goal of doing this is to create a second-life for your event content that looks good for you and your business or organization.
So if you're hosting your next virtual event, make sure that you consider these five elements of hosting that will ensure event success and the growth of your business relationships.