A reliable video conferencing system communicates a level of professionalism and trustworthiness to your business partners, colleagues, and prospective clients — especially working as a lawyer or attorney. As professionals in the legal field, you are figures of competency, reliability, and professionalism, and choosing the correct conferencing system matters. With the right system to support you, work becomes easier and more manageable while also demonstrating your authority as a law professional.
There are so many video conferencing systems to choose from but with the unique aspects of custom video conferencing, lawyers not only have access to a reliable conferencing tool but also can benefit from the features that are only available through custom video conferencing. ProVideoMeeting is changing the game when it comes to conferencing. With secure software, ProVideoMeeting brings branding power into the hands of attorneys which gets their names out there to potential clients.
Here are five unique ways that attorneys can use ProVideoMeeting to their advantage.
1. We have to talk about it—ProVideoMeeting users get a custom video conferencing link
When attorneys and other law professionals choose ProVideoMeeting as their video conferencing software, they are given a unique URL link that only they will have which ends with their name, how neat is that! You will receive one personalized meeting link that you will never have to change. As a marketing strategy, you can even stamp the link on your business cards and add it to your email signature. You'll look professional while also creating an image for yourself in your career.
2. Collaborate with team members in productive ways
More likely than not, attorneys will have to collaborate with other colleagues to cross-reference specific information, especially when working with a team. As your reliable video conferencing system, ProVideoMeeting provides you with incredible features that will support all your collaboration needs. Supportive tools such as integrated calendar systems to schedule meetings, enhanced meeting links to send out at the last minute, file share to send documents in the meetings instantly, and more. ProVideoMeeting is the video conferencing system to ensure that you collaborate in teams seamlessly while staying productive.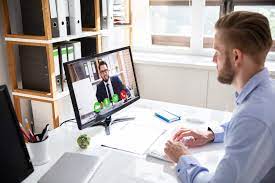 3. Communicate with clients instantly with ProVideoMeeting
Unlike other video conferencing systems out there, ProVideoMeeting allows you to send out one meeting link that will never change instantly. Let's say that an urgent meeting with a client comes up. With ProVideoMeeting, you don't need to waste time logging in to a conferencing system, producing a long and garbled meeting link, and then proceeding to email said link to a client and probably other people as well. The only thing that you have to do is send that one, customized meeting link that will never change to your clients. Email or text that link instantly—you can even place that link on your personal website, business cards, or email signature and all that your clients have to do is copy and paste that link into their search bar and they will instantly enter a video call with you. ProVideoMeeting saves you time that you can spend speaking with clients.
4. Present in a way you never did before
Presentations are all a large part of any career—especially in law. As mentioned in a prior point, ProVideoMeeting allows you to seamlessly present with tools such as YouTube GroupView. Videos are compelling pieces that can change the whole trajectory of a presentation, impressing clients and other people as needed. You can now easily incorporate visual and video media into your presentation that will elevate them and impress your clients and audience.
ProVideoMeeting is the video conferencing system that you need. As lawyers, attorneys, and legal professionals, you need a support system that will allow you to do your work productively while creating new and unique ways to communicate with your colleagues and clients.
FEATURED IMAGE VIA LAW.COM