Businesses everywhere are remodeling their brand identity to better maximize their reach over technology. The past few years have transformed the way people work, market, and brand their businesses. As an event planner, exposure is the most important aspect of building a strong and successful event planning business. System applications, devices, and different media have always been used as a base to build an online presence. The exposure of an event business through various online mediums consistently builds and expands your personal brand identity. This gives a way for your event business to be accurately represented online and will drive traffic to your personal websites.
To grow your online presence as an event planner is necessary for your success. Even before most businesses decided to work remotely and began heavily promoting online, event planners brought their business online. When people look for event planners, they either are referred to an event planner by someone they know or they immediately do a Google search. Both ways reflect the need for event businesses to have a fairly strong online presence. To do so, there are certain things that you need to do in order to bring the brand exposure that you desire. Here are five things that event planners can start doing to ensure their businesses are building a strong online presence.
1. Build a website
First things first, having a strong website is important to your success online and in general. Potential clients will most likely do a quick Google search of event planners and businesses and will choose the one that draws them in the most. A beautiful and detailed website will attract potential clients so make sure that one of the first things you do is build a website. When building a website for your business, think about how it looks. Add bright, beautiful colors, pictures of the events that you've created and managed, and even have positive comments from past clients posted on a community page. Be sure to clearly identify and write what services you offer. Additionally, think about the technical maneuverability of your website and an easy way for potential clients to request a consultation by email.
2. Create SEO content
Expanding on the above point, you want to optimize your content by creating SEO (search engine optimization) content. This means creating blog posts that rank higher on a search engine like Google by satisfying a few factors. These are usually optimal keywords and keyphrases, creating concise and straightforward content, and adding necessary images and backlinks to allow your content and website to rank higher than other websites, which are usually your competition.
3. Discover your brand identity
A brand identity is what makes you distinct and pop. It's what sets you apart from other event businesses. This could be your brand values and aesthetics that you market to your potential clients. Think about what makes your event business different and what you have to offer to your clients. Your brand identity is what your potential clients will first identify with so be sure that you are transparent with what you are communicating with your clients through various mediums like the content you post on your business's website.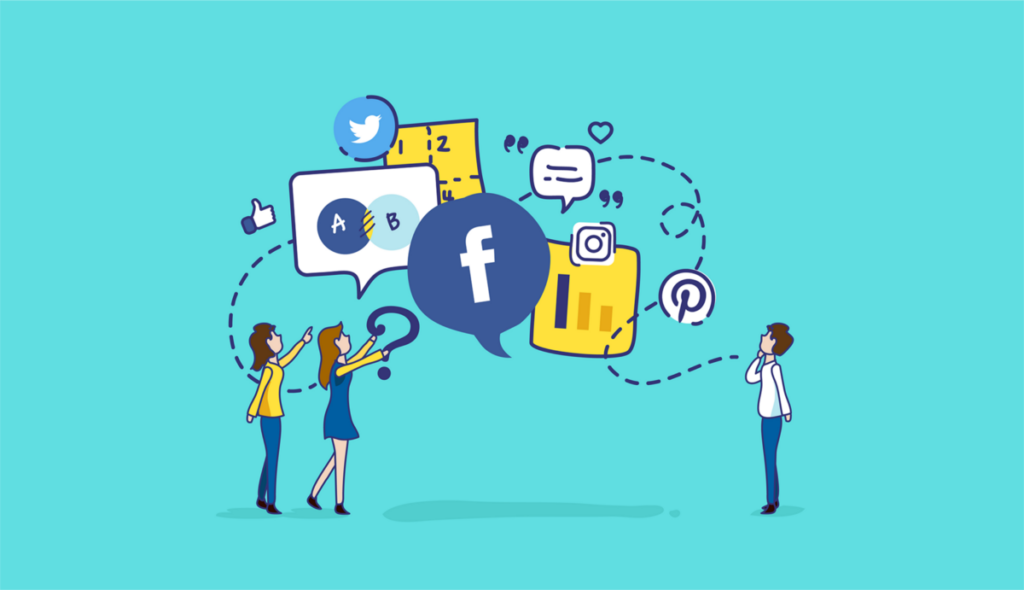 4. Amp up your social media reach
Social media applications are a great way to build your online presence. Apps such as LinkedIn, Instagram, and Facebook are strong apps to use to begin building an online presence for your business. Posting beautiful photos of past events that you've created and managed, creating videos of behind the scenes of your events, and writing about the services your event business provide will contribute to building your online presence. Additionally, take advantage of the features of specific social media applications such as Instagram stories. Post and save what work your event business provides and think about fun ways to build a brand identity and a personality that sets your business apart from others.
5. Build client relationships
Lastly, build strong relationships with your clients. As mentioned before, many people are referred to a business by former clients so ensure that you establish a professional and strong relationship with them. Throughout the process, ensure that you're accurately communicating with your clients and show that you are valuing their opinions and boundaries. Provide stellar and professional services and have your clients write a quick review for you if they are comfortable. You can post these reviews on your own website or even build a Yelp presence.
Building an online presence requires you to be consistent with what you do and post. Always be on top of updating your personal websites and social media accounts to ensure that your event business receives exposure and that your websites drive traffic. Following these five tips will help you build a solid foundation for your event business online.
FEATURED IMAGE VIA CARRICK LEISURE SERVICES