Video conferencing systems are the default form of communication for professionals across almost every industry that exists. With many people working from home completely or at least in a hybrid capacity, various communication and collaboration tools have been widely used to get quality work done. Many industries are seeing the benefits and potential for growth from using these systems. Custom conferencing systems like ProVideoMeeting in particular have created a way for businesses and professionals to use unique technology and features that personalize their businesses. But more industries and professionals stand to gain from using custom video conferencing for work because it allows them opportunities and benefits that weren't available or normalized before.
Attorneys, lawyers, and law firms as a whole could see undeniable growth and benefits from using custom video conferencing systems and implementing them in their daily use. Custom video conferencing for attorneys, lawyers, and whole law firms could transform the way they conduct their work, making things easier to manage and even possibly cutting down on traditionally costly aspects of law practice. Working through custom video conferencing will give law professionals and firms a way to grow and maneuver through an increasingly technological world. The impact of the Covid-19 pandemic is still lingering, forever influencing the way we live as a whole. Custom video conferencing for attorneys, lawyers, and law firms should be more widely used because it could transform the way you practice law for the better.
1. Establish better relationships with your clients
Through custom video conferencing, attorneys and lawyers are able to establish better relationships with clients. When you're meeting in person, it's difficult at times to meet regularly with clients, and traveling to meet up can get tiring for both parties. Video conferencing eliminates those difficulties by making it easy for both parties to meet on a video call from anywhere. You're also able to meet more consistently which creates an environment for more clarity and discussion.
Additionally, video conferencing reduces the strict appearance of professionalism in a good way. Clients could be intimidated by a traditional and in-person meeting which makes it difficult for them to speak freely because they're uncomfortable. But through video conferencing, meetings are inherently more relaxed which makes everyone more comfortable and confident to speak up.
2. Save time and money by holding virtual arraignment and deposition calls
As attorneys and lawyers attending particular meetings regularly is part of the judicial process. Court arraignments and depositions are one of the most common meetings that attorneys and lawyers have to attend. But with a lot of things having been transferred through a remote process, these meetings have become more accessible and quicker to process and hold.
Court arraignments are now being held remotely which reduces the amount of time, money, and manpower to transfer prisoners to a courthouse. All parties can meet through a video call and have the same results as an in-person court arraignment.
Additionally, depositions are the most common and expensive expenditure that attorneys and lawyers have to attend to. Sometimes you have to travel long distances to attend a deposition. With the regular implementation of video conferencing, remote calls reduce these expenses and the time it takes to attend one. Both you and your clients greatly save time and money on having to travel to, at times, extremely lengthy and time-consuming depositions.
3. You are able to expedite specific procedures through online collaboration
The legal and judicial process is notoriously lengthy. It takes a certain amount of time to process important documents such as warrants. But with remote work technology, the process becomes completed quicker. You are able to submit and process important documents and receive them without having to wait through a notoriously lengthy process which makes it easier for everyone.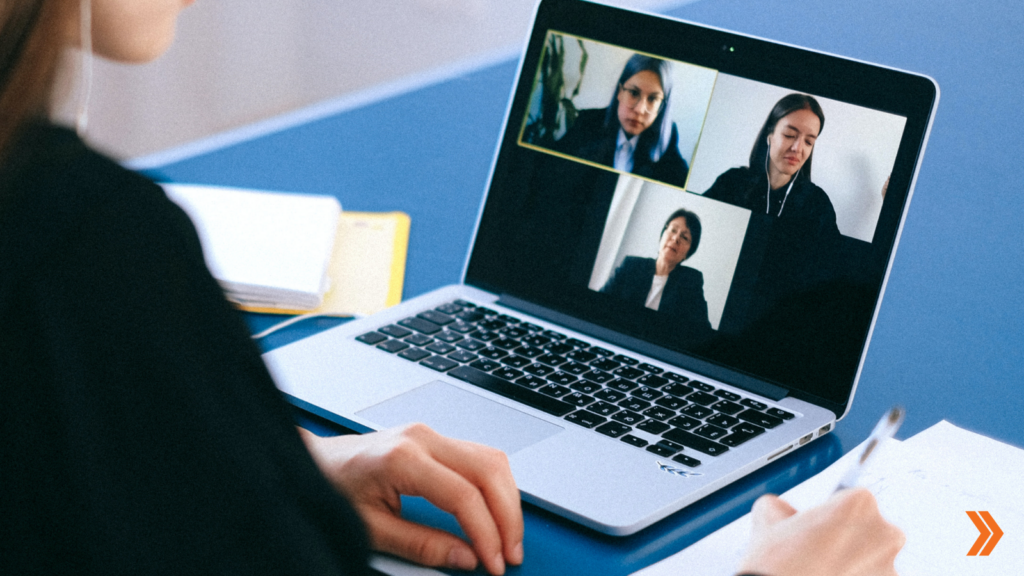 4. Collaborate and establish communication with the legal team
Many times, law practice requires collaboration work with a legal team. Custom video conferencing for attorneys and lawyers created an easier and more positive collaborative experience and environment for them to work. Working through technology allows you to take advantage of the tools that are available to you. You're able to use applications like Google Docs and Sheets to easily collaborate and communicate with other attorneys and lawyers in your legal team. Working together becomes more manageable and organized and you are able to establish better working relationships with them.
Additionally, custom video conferencing tools provide unique features for you to use during meetings. For example, you're able to share screens so everyone can see the same documents or texts. Even in-person meetings don't provide this experience. You're all able to simultaneously view the same documents and texts without having to assume other people in the team have the same information. This makes work collaboration easier for attorneys and lawyers and improves the way you work with others.
5. Use custom video conferencing to elevate the process
Custom video conferencing for attorneys, lawyers, and whole law firms contributes greatly to their work. As mentioned before, custom video conferencing tools provide another layer of support that elevates the way you work. ProVideoMeeting for example provides InstaSign to users which allows you to sign documents that are pulled up right on your screen. Law professionals are able to easily access and sign and have signed important legal documents that are needed for the judicial process.
It's also easy to just jump on a quick call for emergency meetings and create better solutions for everyone. Meetings become more productive and efficient when everyone is able to communicate clearly and custom video conferencing tools allow that to be possible.
The Verdict
Custom video conferencing for attorneys and other law professionals is a positive development. You're able to process work and documents quickly and efficiently while still maintaining the same quality of work and experience as an in-person process. Using video conferencing systems helps reduce stress related to work and makes work more manageable. The world is becoming more technologically savvy and the future of the law profession can be easily integrated if change is adopted wholeheartedly.
FEATURED IMAGE VIA APEXCHAT