Working from home or in a hybrid capacity has become the standard in many professional settings and businesses. The benefits of working remotely or hybrid are undeniable. People are able to work in a place that is comfortable for them, control their own work schedules, and hold themselves accountable for independent work. Studies show that many people prefer working from home or at least in a hybrid setting. They get work done quickly and efficiently and are able to have time to take care of their personal lives as well. People from all backgrounds are also able to work, eliminating barriers that existed before remote work was an option. A healthy work-life balance is more attainable than ever and it's because of having the option to work remotely or hybrid.
But when it comes to working from home, we can all agree that there are a few frustrations that come with working from home. One of the biggest issues that we face is the difficulty of collaborating online for work. Working from home means working independently most of the time. However, there are times when you have to collaborate on work projects or presentations. With your team working from home, it can be a challenge to synchronize calendars, find the right time to meet virtually, or communicate with coworkers. Many agree that the biggest challenge when collaborating online for work is miscommunication. Communication can be tricky when it comes to remote work but with the correct online collaboration tools, that can be easily resolved. Here are a few communication tips you can start implementing for remote work to make online collaboration easier.
1. Take advantage of online collaboration tools
Working from home entails a great deal of online use. As you're working online, take advantage of the collaboration tools that are easily available for you to use. For example, online collaboration tools available through Google suite are free to use and make it effortlessly easy to communicate with your team. Use tools such as Google Docs, Google Sheets, or Google Slides to synchronize your work with one another. You are all able to add content at the same time which makes working together simple and manageable. Additionally, using online collaboration tools keeps all your work and progress organized and everyone on the team can access them from anywhere. Unique features allow you and your team to comment and add suggestions on a specific location in the documents which makes it seem like you are all working in person at the same time.
2. Email efficiently and often
Never underestimate the power of emails. Many of us have been working remotely consistently these past few years and we've all developed habits of checking emails often, and if you haven't, start doing it now! Emails are the simplest forms of communication that people are more likely to respond to. To make sure that you're communicating efficiently with your team, email often with updates. You can even add important contents of the email to a shared Google Folder which will keep track of your team's progress over the course of a project.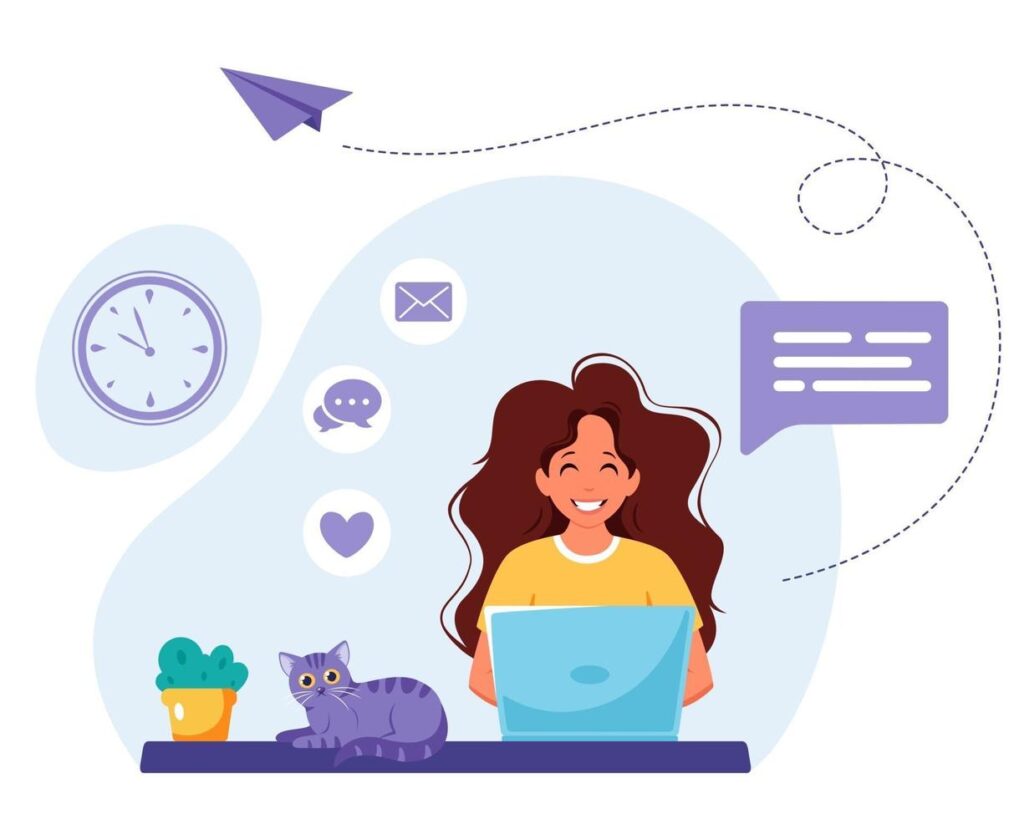 3. Understand how video conferencing systems can help you
If you're working from home, you're obviously familiar with video conferencing systems, and like with emails, don't underestimate them. Video conferencing systems, especially custom video conferencing systems like ProVideoMeeting makes it easy for you and your team to pop on a call and quickly discuss work. Video conferencing systems and the unique features that they provide makes collaborating online for work easy. Features such as screen sharing allow you to all see the same content at the same time in a meeting call. This ensures that you are all on the same page and reduces miscommunication. But be cautious of using video conferencing too often because it could exhaust your coworkers. Be respectful of their time and make sure everyone isn't too busy or their workload is too heavy before scheduling meeting calls.
4. Synchronize your calendars
Echoing the former point, you always want to make sure that everyone is able to make important meetings when necessary and a way to do that is by synchronizing your calendars. Google Calendars allows you to create a specific calendar that you can even share company-wide. You are then able to mark and share important dates and times when you're on vacation, taking PTO, or scheduling a work meeting. This reduces your having to personally notify coworkers continuously about specific meetings or when you're unavailable.
5. Be intentional with the communication tools you use
Lastly, you want to be intentional about the communication tools you use. For example, designate specific forms of communication for a certain task. This could be designating emails solely for updates, Google Docs for only writing collaborative pitches, or using Google Sheets for financial analyses and updates. Designating specific tools for different tasks makes sure things aren't disorganized and creates a routine for your team and coworkers to follow.
With online collaborative tools easily available for your use, collaborating online for work has never been easy. Communicating with your team members becomes seamless and effortless and you're able to create routines that will help make online collaboration more manageable and attainable.
FEATURED IMAGE VIA BLUE FLAME THINKING