The rise of remote work has changed the way we conduct business. No longer are face-to-face meetings the only option for companies to collaborate and communicate. Virtual work meetings can be held over video conferencing platforms like ProVideoMeeting and Zoom, allowing people to connect from all over the world.
While virtual work meetings offer many benefits, they can also be challenging. You need to make sure everyone is on the same page and that the technology works properly. Here are seven ways you can prepare for a virtual work meeting with bonus tips to ensure a successful meeting.
1. Set up the meeting on a reliable video conferencing platform
The first step in preparing for a virtual work meeting is to select a reliable video conferencing platform. There are many options available, including ProVideoMeeting, Google Meet, Zoom, GoToMeeting, and more. Research the available options and determine which one works best for your company's needs. Make sure the platform is compatible with your company's hardware and software so that everyone can join the meeting without any technical difficulties.
2. Test the video conferencing platform ahead of time
Once you have selected a video conferencing platform, it is important to test it out before the meeting. Make sure all the audio and video settings are working properly and that everyone can connect without any issues. This will help ensure that everything runs smoothly during the actual meeting.
3. Prepare a brief agenda
Having an agenda is essential for any meeting, especially a virtual one. An agenda should include the topics that will be discussed and any action items or decisions that need to be made. It should also set expectations for how long the meeting will last and who will be talking. This will help keep everyone on the same page and ensure that everyone is prepared for the meeting.
4. Establish a plan for communication
When holding a virtual work meeting, it is important to establish a plan for communication. Determine who will be talking and when they will have the opportunity to speak. This will help keep everyone engaged and ensure that everyone has a chance to voice their opinion or ask questions.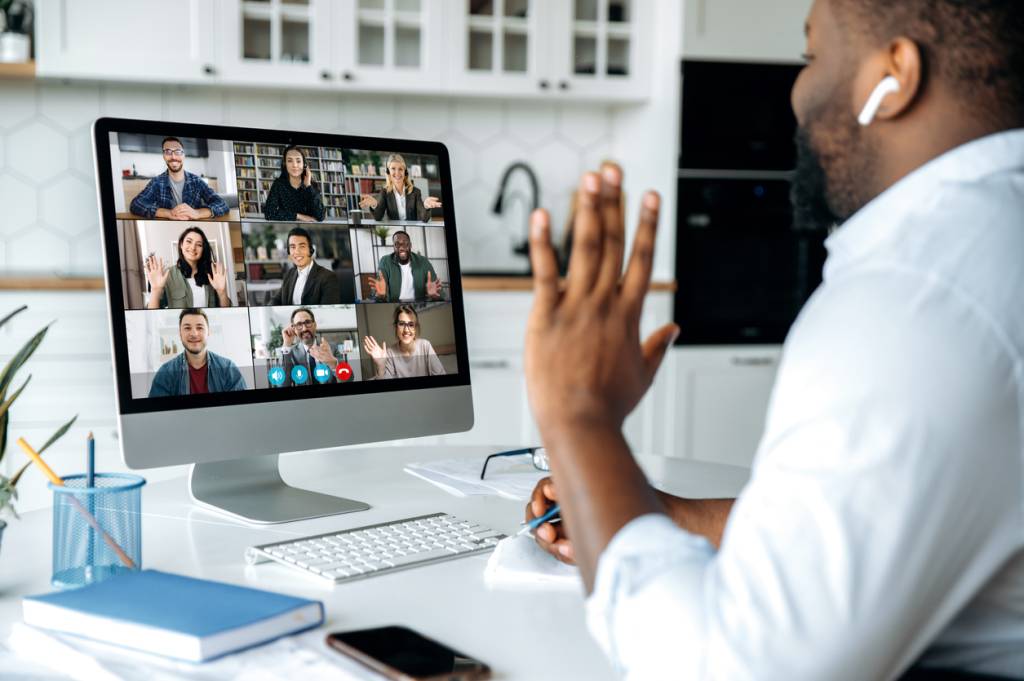 5. Make sure everyone is visible
One of the biggest challenges of virtual meetings is making sure everyone is visible. Ask participants to join with their video on (if they are able and comfortable to do so) so that everyone can see each other during the meeting. It is also important to make sure everyone is in a well-lit area so that they can be seen clearly on camera.
6. Use visual aids for a more engaging meeting
Using visual aids such as slides or videos can help make virtual meetings more engaging and interactive. Prepare visuals ahead of time that can be used during the meeting to help illustrate points or demonstrate concepts. This will help keep everyone focused and engaged throughout the meeting.
7. Follow up with participants
At the end of the meeting, it is important to follow up with participants to recap the main points and set up a timeline for the next steps. This will ensure that everyone is on the same page and that any action items that were discussed are completed in a timely manner.
Bonus Tips:
Consider having a designated note taker who can take notes during the meeting and follow up with participants afterward
Ask for feedback from participants to get their thoughts on how the meeting went
If there are technical difficulties, have a backup plan such as using a phone or email
Take regular breaks throughout the meeting to give people time to process what was discussed
By following these seven steps and bonus tips, you will be able to prepare for a successful virtual work meeting. Not only will this help ensure that everyone is engaged and focused during the meeting, but it will also help ensure that all goals are met so your team can succeed!
FEATURE IMAGE VIA KSN LAW