Online notary services (remote online notarization–RON) are in demand as the world is getting used to remote transactions. It's an opportunity for licensed notaries to expand their business through remote technology while also providing an accessible way for people to obtain notary services who can't physically go out for personal reasons. Video conferencing systems are making it possible for notaries to conduct their business through remote technology. Having access to an online notary seems to be the way of the future since so many industries are moving their work, or at least offering remote options, completely online. Additionally, these industries, both professional and personal, need access to an online notary service in order to get their documents authenticated and verified.
Now is the time for licensed notaries to consider remote opportunities. The demand for online options will only increase as time goes on, and for many reasons, providing an online notary service is easy, quick, and accessible. But before you go on to start your remote online notarization services, you have to do research on what is legal and allowed. Unfortunately, not all states allow remote online notarization services and it's important to know if you can legally expand your notary business online. But beyond that, there are a few things you should know about getting started as an online notary.
Here, you will find out about five things you need to know before starting your remote online notarization journey.
1. Find out if RON is legal in your state
As mentioned, not all states allow remote online notarization. Before you get started as an online notary, make sure that you check if your state even allows RON and if it is legal, find out if there are any restrictions or specific guidelines for the specific state that you are practicing in.
As of now, these 41 states allow permanent remote online notarization: Alaska, Arizona, Arkansas, Colorado, Florida, Hawaii, Idaho, Illinois, Indiana, Iowa, Kansas, Kentucky, Louisiana, Maryland, Michigan, Minnesota, Missouri, Montana, Nebraska, Nevada, New Hampshire, New Jersey, New Mexico, New York, North Carolina, North Dakota, Ohio, Oklahoma, Oregon, Pennsylvania, South Carolina, South Dakota, Tennessee, Texas, Utah, Vermont, Virginia, Washington, West Virginia, Wisconsin, Wyoming.
Five states do not allow remote online notarization at all: Connecticut, California, Delaware, the District of Columbia, and Massachusetts.
Five states allow a temporary online notarization: Alabama, Georgia, Maine, Mississippi, and Rhode Island.
2. Apply and register to perform virtual notarizations
After finding out if your state allows remote online notarizations, you have to apply and register in order to begin performing virtual notarizations in your state. Most applications will have an application fee so plan accordingly and prepare for any ancillary steps specific to registering in your state. Again, each state has specific guidelines for you to follow, so make sure you do your research and complete any necessary steps to begin performing virtual notarizations; you do not want to leave any mistakes and complete every step accordingly.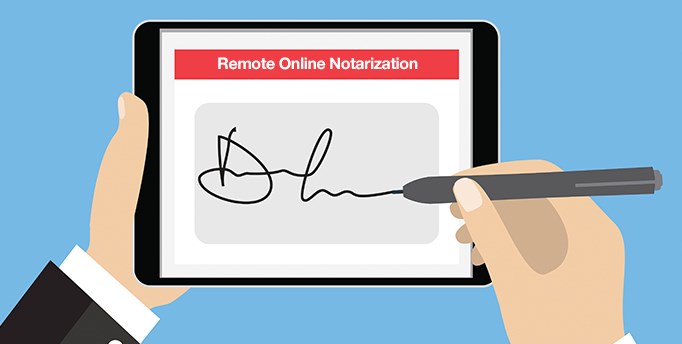 3. Complete RON-specific training
Like with a regular notary license, you will have to complete RON-specific training and courses before meeting the guidelines to perform online notarizations. The knowledge and practice behind performing online notarizations stay the same but when working online, there are a few extra steps that are probably needed. For example, you might have to complete a course on online protection and security. Technology has its advancements and benefits but there are setbacks such as ensuring important information and documents stay secure. Complete the training as needed by your state to ensure that you are well-equipped to provide remote online notarizations.
4. Make sure you have a surety bond to cover RONs
Notaries know that in order to provide notary services in general you need to have extra security such as a surety bond or E&O insurance to cover the notarization process. Having a bond or E&O insurance not only protects you in the case of errors but also the people you perform notaries for. You want to do the extra research behind surety bonds and E&O insurance that also covers remote online notarizations as well in order to protect your practice and clients.
5. Have the tools and technology to complete your services
Being an online notary service means having the tools and technology that you need in order to complete your services. Make sure that you have a stable internet service in addition to devices that you will need to perform online notarizations. Additionally, having a video conferencing system that supports your business will elevate your experience and allow you to provide excellent services. ProVideoMeeting has unique video conferencing tools such as Instasign for you to verify signatures and identities, allowing you to provide quality notarization services.
>>>
Providing online notary services means stepping into the future. People are now searching for services that are fast and accessible while maintaining their quality. Before getting started with remote online notarization, it's always best to do your research specific to your state in order to provide quality services.
FEATURED IMAGE VIA THE REAL DEAL