Working from home or in a hybrid capacity is the new normal. Many industries have made the shift to establish remote and hybrid guidelines because the benefits are undeniable. Working remotely as an attorney, lawyer, or any law professional is a huge leap from the traditional route of working in person. For some, it might be difficult to imagine what working from home as a lawyer looks like. When you think about the work that a lawyer or attorney does, you think about all the in-person depositions, client meetings, and court appearances–it seems almost impossible to imagine remote work for a law professional.
However, remote and hybrid work is completely changing the game. It's making many industries, including law, rethink and push against the idea of what is considered "traditional work." The Covid-19 pandemic has proven that remote work is just as productive, if not more, as in-person work. Law professionals have also seen the way remote work technology has transformed the way they work and practice law. With more people favoring remote work and technology over in-person meetings, law professionals will see that remote technology works to aid and supplement their work experience and the benefits of working remotely as an attorney or lawyer is increasing.
The trick to working from home successfully is to understand what you need to prepare in order to have the best possible experience. Here are a few things to keep in mind when working from home or in a hybrid capacity.
Make sure that you can rely on the resources that you have at home
One of the first things that you have to think about when working remote is your access to specific technology and resources. The first thing that comes to mind is stable internet connection. This can't be stressed enough. A stable internet connection ensures that your workflow will run smoothly without interruption and will reduce frustration with technology dramatically. Nothing is worse than disconnection and buffering during a call with clients, and as law professionals, it's important to maintain clear communication with them. Truthfully, the source of all your problems with technology is most likely an unstable internet connection. So when you have the time, make sure you contact your internet provider to make sure your internet speed is running efficiently, check your modems, and upgrade if you have the bandwidth to.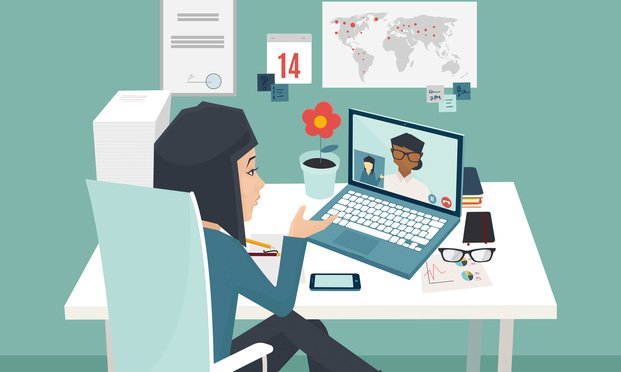 Additionally, make sure you have access to all the technology that you need in order to work from home successfully. This means having access to a working laptop or desktop with a stable camera and microphone, internet connection, video conferencing systems, online workspaces, etc. Having all the necessary things that you need in order to work successfully from home will improve productivity and communication and you might event enjoy it. Here is a quick list of what you might need when working remotely as an attorney or lawyer:
Choose your video conferencing systems carefully because as law professionals, communication with your clients is necessary and important.
Set up your workspace. This refers to both your physical and virtual workspaces. Find a quiet place to work from to reduce distractions and get organized virtually by using online work tools like Google Suite where files and documents are easy to find and share!
Make sure you have access to remote tools such as an online notary service, fax machines, printers with scanners, etc. Having and knowing what you can accomplish remotely will make sending out court and legal documents easier and under a secured environment.
Communication is key to working remotely as an attorney
Working from home entails having a network of communication channels. As law professionals you understand that communicating with clients and the rest of your legal teams ensure the success of a case. So make sure that you have a video conferencing system that you can rely on. Custom video conferencing systems such as ProVideoMeeting ensures that you have secure communication with your clients and provides you a way to utilize their unique tools to enhance meeting experiences. Additionally, make sure that you establish with your clients that they can contact you through conferencing calls, by phone, or emails. When your clients know that they can contact you, your professional relationship with them will improve. Also, keep in mind when you are able to work remote or will have to meet in-person. Learn to distinguish what needs to be done will help you complete your work efficiently.
Working remote as a law professional is an entirely new experience. But when you are prepared, working from home is more manageable and gets you the same results as working in person.
FEATURED IMAGE VIA LEADERS IN LAW / ADOBE STOCK